Northampton Stats and Trail System Info
Northampton has some catching up to do when it comes to accessible recreation trails. Despite adding new conservation land and trails each year, there remains a severe lack of access to nature for the large portions of the city's population that have mobility considerations.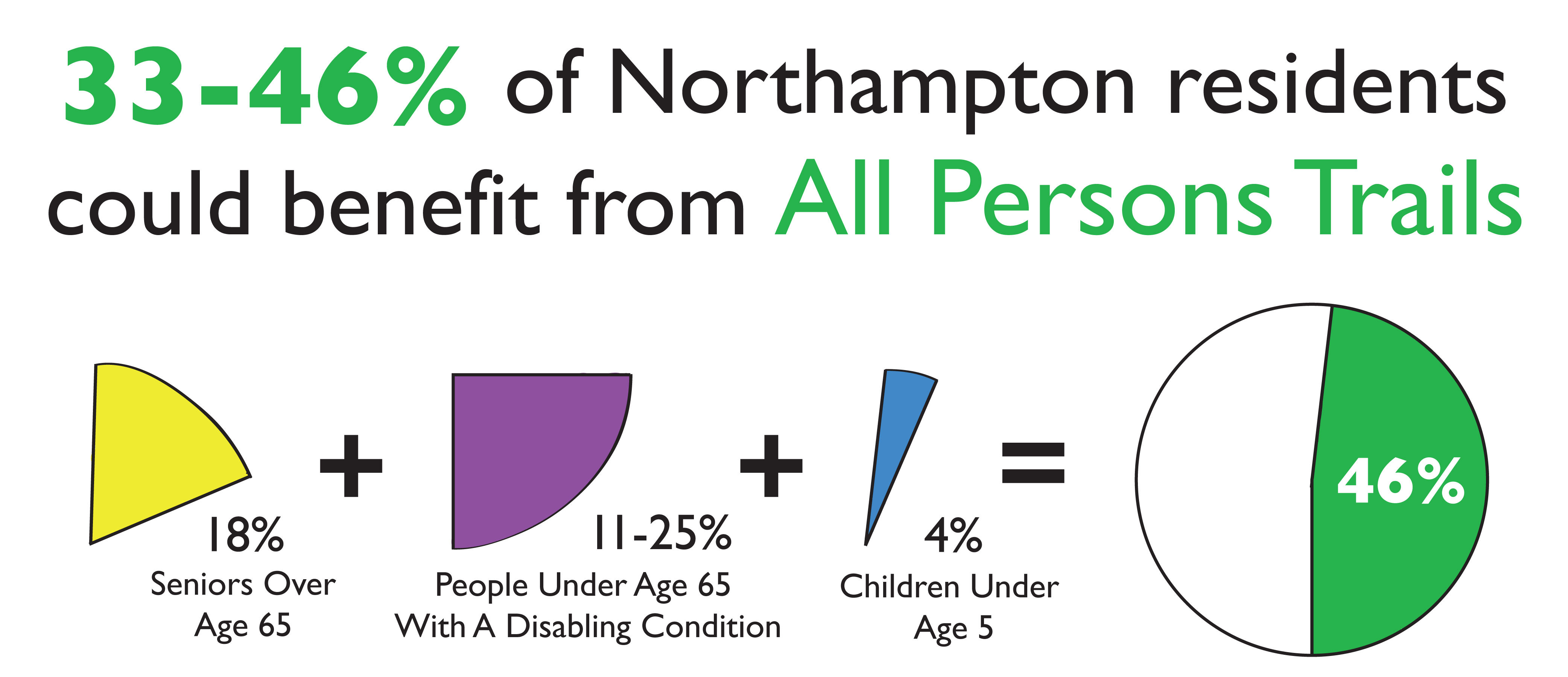 The few spaces the city has labeled as "unpaved, accessible trails" have barriers and design flaws that mean they either aren't really accessible, and/or they don't amount to substantive outdoor experiences- in some cases it would take longer to get a mobility device out of a car than it would to travel the whole of the trail.
After years of advocating for more equitable conditions, there was some good news- in 2021 Northampton's Community Preservation Committee approved funding for a new unpaved universally accessible nature/hiking trail at the site of the former Pine Grove golf course which is now part of the Rocky Hills Greenway.
Unfortunately beyond identifying the location and securing grant funding, as of 2023 the Northampton Planning Department still doesn't have any concrete plans for the trail. We will continue to seek information from the city's Planning and Sustainability department about this trail and when it will be constructed. We welcome and encourage public participation in this project, some of the design questions that have already been flagged as a concern are the parking, trail surface, and trail length. The more participation we have from residents, the more likely we are to get a functioning trail that meets the needs of as many people as possible. We'd like to thank City Councilor Karen Foster, and Friends of Northampton Trails, without their support and advocacy we wouldn't have gotten this far.
We will also continue our advocacy efforts in order to get additional accessible unpaved trails in the city. Accessible nature spaces that are closer to the downtown area and/or accessible by public transportation are needed. Since a significant number of people with disabling conditions use public transportation, a location that can be reached via bus routes will meet everyone's needs and allow for more independent access to nature.
Here are 4 Ways You Can Help Advocate For Change:
1. Join Us, People = Power. More voices help this cause. Learn More Here
2. Get Emails To Stay Informed About Progress. Sign up for email updates here.
3. Contact City Government and tell them you support adding universally accessible unpaved trails -
Here's a link to contact Northampton's City Councilors.  Once at the city's website click the "contact" tab.
Here's a link to contact the Director Of Planning & Sustainability
4. Sign The Petition- Show your support for unpaved universally accessible nature trails in Northampton. 
Here's the current state of some Northampton conservation properties including their lack-of, but more importantly their potential for, unpaved accessible features.
Fitzgerald Lake/Broad Brook
Although this property has miles of unpaved recreation trails, only 1/10th of a mile (according to Northampton's Trail Report) is accessible. The accessible portion runs from the parking lot to the pond and is made of mixed material (primarily pavement, wooden dock, and gravel). This project was first done in 1996 to provide access to the lake for boating and fishing. As the city's single largest conservation area, this property could, and should, be more accessible. It's also located near a retirement community, so there's a concentration of people who could greatly benefit from having accessible trails nearby. There are some logging roads that have the potential to become universally accessible unpaved trails, as well as many already established recreation trails that could also become accessible. The spectacular beauty of this site should be able to be explored and enjoyed by all residents and visitors of Northampton.
Rocky Hill/ Former Golf Gold Coarse Course
This conservation area is split across multiple locations. The Pine Grove location will be the site of the city's first unpaved accessible trail. The rest of this former golf course (including some the recently built, but inaccessible trails) is a very good candidate for universally accessible unpaved trails. The potential for universally accessible trails in other areas that encompass the Rocky Hill Conservation area is unknown.
Terrace Trails off Pomeroy Terrace
The City's Planning and Sustainability Department has continually cited this trail as the city's primary unpaved accessible trail. Only 800 ft of trail in this network is labeled accessible- so it's a very short trail. The surface has issues that would make it challenging for many with mobility devices to navigate, seasonal flooding/wet muddy areas can also be a problem here. The trail terminates onto an inaccessible field near the parking area, so finding a good place to turn around before the trail ends is advisable. The lack of signage along the trail makes it very easy to accidentally go off the accessible portion onto the other connecting trails which have an inaccessible woodchip surface. For those with a mobility device, it could be easy to get stuck before the mistake is realized. There are interesting features branching off of the accessible trail which are not accessible.
There are very likely more conservation properties that have the potential for universally accessible trails, but since none of these sites are currently accessible, it's hard to know which ones. If you think a property should be added to the list, please contact us with information about the site.
We could also use able-bodied people to walk the trails and tell us what they're like. If you'd like to do that please send us an email at- UnpavedTrailsForAll@gmail.com
The lack of access to nature in Northampton for those with mobility concerns is an environmental justice, equity, and public health issue. Spending time in nature spaces like conservation land has health benefits that those with chronic health conditions and limited mobility are in even greater need of, visit our Why Unpaved Trails page to read about these health benefits. In these times of Covid it's also easier to social distance on the city's unpaved trails than it is on paved trails. In a May 20, 2021 Daily Hampshire Gazette article entitled Northampton Conservation Commission: Taking care of the spaces that heal us, Wayne Feiden, Northampton's Director Of Planning & Sustainability was interviewed about one of the city's newest conservation properties and said "I have passed a few people on the trail, and the land is wide enough that it is easy to get social separation. We are promoting walking on greenways when we can because they are inherently less crowded than bicycle paths, and social separation is easy." Social separation is something those who have chronic health conditions, mobility limitations, or who are older, may have more need of, but is indeed difficult to practice when restricted to paved paths only. This same Gazette article stated, "the stresses and uncertainties of COVID-19 have underscored the importance of local parks and open spaces that are available and accessible to everyone". Sadly, without universally accessible trails, Northampton's open spaces are not available to everyone. The article goes on to quote a report by The Trust For Public Land which stated "Research shows that parkland is, indeed, a potent force for our well-being: numerous scientific studies show the benefits of nature for both physical and mental health." Based on this research we implore Northampton to recognize the importance of access to public conservation land and natural spaces for everyone.